※The spec and configuration may change without prior notice.
Frame material: 3-2.5 titanium
Head tube: 44mm
BB: PF30 VBS
Seat post: 31.6=
Rear drop out:148mm boost
Brake: post mount, 160~203mm
Recommended fork: 29er 140 – 150mm (axel to crown 555mm)
Wieght:1940g(Small), 2000g(Medium), 2060g(Large)
Size: Small(140cm~160cm), Medium(160~180cm), Large(170~190cm)
Price: 250000yen with TAX (incl BB unit)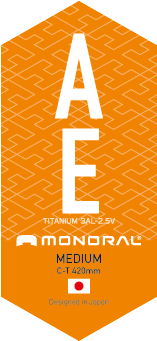 The geometry is well designed for both the stability in downhill and the control in cornering. The rear triangle is cushy enough to absorb shock but still has lateral rigidity.
The tire clearance is up to 27.5 x 3.0(75mm tire width) or 29er x 2.8(750mm diameter) * depending on width of a rim you use and tire side nob shape.
Some tires with bigger side nob may cause a touch. The pic on the left shows the maximum size. 
The frame takes a 34t chain ring which is advantageous for downhill. BB position changes clearance of tires and york /chain stay. BB in the highest position makes the narrowest clearance in which 34t ring can still fit.
VBS - Virtical BB System -
VBS- Vertical BB System
With 5mm and 10mm shims, the BB can be altered vertically by 5mm. BB is attached with a frame but you can also use other Twist Fit BB (Regular PF30 without thread CANNOT be used for lack of rigidity). The width of BB shell is 68mm but actual width is 73mm with the outside parts.
※This information is under development. Changes may occur without notice.