>Multipurpose Trail Bike
TA is 27.5 semi fat tire MTB designed to enjoy all types of trails. It is such a fun all-round bike in any terrain for both hill climb and downhill. The titanium nature makes it possible. The head angle is 66 degree when 120mm fork is installed. You can adjust it for more downhill or XC with different travel forks.
>27.5 x 3.0 tire compatible
27.5×3.0(max 80mm) can fit. Fat tire makes comfy ride feel and good operability in a rough terrain.
>Multiple accessory mounts
It has 6 in the down tube, 2 in seat tube, 4 in seat stays and 2 in the top tube. You can install rack on seat stay and bolt on top tube bag on the top tube. Very ready for your next bike packing trip!
※The information in this document is subject to change without notice.
Frame material: 3-2.5 titanium
Head tube:44mm
BB: PF30(46mm)width73mm
Seat post: 31.6
Rear drop out:148mm boost
Brake: post mount, 160~180mm
Recommended fork: 27.5″ 120mm (axel to crown 510mm)
Wieght:1800g (Medium), 1850g(Large)
Size: Xtra Small(140~160cm), Small(150~170cm), Medium(160~180cm), Large(170~190cm)
Price: 220,000yen with TAX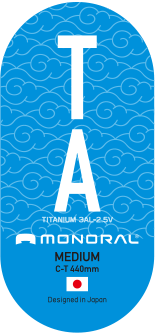 The geometry is an all-around MTB with a downhill flavor while incorporating the recent taste of slack head angle. The seat is slightly larger in proportion to the reach for loading in the front triangle.
Tire clearance is up to 27.5×3.0″ (tire width up to 80mm). The rim width may interfere with the frame depending on the actual width of the tire and the shape of the side blocks. The diagram on the left shows the last minute dimensions. Chainrings up to 32T can be used.
※The information in this document is subject to change without notice.