GR
- touring bike compatible with 50c tires
※The information in this document is subject to change without notice.
Frame material: 3-2.5 titanium
Head tube:44mm
BB: PF30
Seat post: 27.2mm
Rear end: 12x 142 TA
Brake: flat mount 140-160mm
Fork: AC 396 (48mm off set)
Weight: 1590g (Small size), 1640g (Medium size), 1700g (Large size)
Size: Small 150cm-170cm, Medium 160cm-180cm, Large 170-190
Price: (with small parts and wires)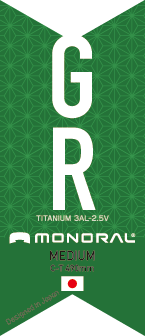 The geometry is a low BB height for riding stability. The sloping style is designed for use with a dropper post.
The tire clearance is up to 700 x 50c (50mm tire width) or 27.5" (650b) x 2.1(55mm tire width). *It is subject to rim width and tire nob form. It may cause the contact with the chain/seat stays. (The chart shows the exact size.)
The chain ring is double with 50t/34t. The chain stay has crushing fitting to the 43.5 chain line.
The downtube has 2 internal cable routing. The frame has no outer cable mounts but 3 different types of removable wire mounts can be installed as you like. 3 types of wire mounting parts are offered, single, double and straight ones.
With electric components you don't have to install any mounts so very clean look can be achieved (except for brake cable on left chain stay)
Aggressive drop bar downhill with 27.5x 2.1 tires by Mr. Mikami!